Extensión - Zapier Integration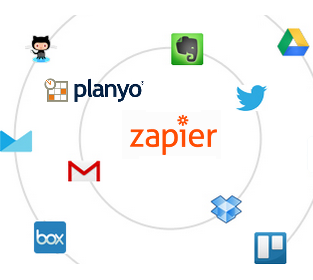 Zapier lets you connect planyo with thousands of other cloud apps. If you want to integrate planyo with another app you use, thanks to Zapier you don't need to search for a dedicated integration, simply create a Zapier automation (zap) which will do this for you.

The following triggers (events) are currently available:

New reservation is entered
Reservation gets confirmed
New payment was made
Customer checks in
Customer checks out
Reservation is cancelled by the customer
Reservation is modified by the customer
When one of these events happens, you can then perform any action using thousands of other apps!
You can also use triggers from other apps in order to perform an action in Planyo. The following actions are currently available:
Create a new reservation
Create vacation
Add a new customer
Click here for an example video showing how to create a zap which sends a document signing request with prefilled data for new Planyo reservations
Here are the some suggested integrations. If you don't find the one you were looking for, simply create your own in just a few minutes!
CHF 3.9/mes
Comprar suscripción mensual a la extensión. La extensión está alojada en nuestros servidores de manera que no se requiere instalación. Esta es la manera más sencilla de usar la extensión.

El primer mes es siempre libre de cargo de manera que puedes probar la extensión. Después de los 30 días iniciales tu cuenta Planyo será facturada automáticamente por la cuota mensual hasta que canceles la suscripción para la extensión. Tu saldo de la cuenta debe ser positivo para comenzar el mes de prueba.